With graphic patterns and eye-catching motifs, geometric rugs are an interior decor staple. They're timeless and versatile, with the potential to give life to an entire room with their bold personalities.
Why are geometric rugs so widely loved? We have that answer and more below.
Why Are Geometric Rugs So Popular?
Geometric rugs have risen in popularity recently, but geometric motifs are some of the oldest artistic designs in history. Patterns with abstract, graphic shapes have graced textiles, vases, art pieces, and other objects in cultures around the world for centuries.
Indeed, many of the world's oldest rug styles, such as Kilim rugs, Moroccan rugs, and Gabbeh rugs, have geometric shapes and bold patterns.
Geometric-patterned rugs feature a myriad of colors and explore the relationship between line, form, and color, with simple shapes that include circles, rectangles, diamonds, triangles, and squares. They can be bold, whimsical, or sophisticated, depending on the tones and contrast in the design style. 
4 Geometric Rug Trends to Watch For
Within the realm of geometric rugs, you'll find three subcategories among the most popular styles. 
1. Modern Geometric
Much like modern art, modern geometric rug designs use bold, abstract shapes with high-contrast hues for a lively, contemporary aesthetic. Modern geometric patterns use chic, often minimalist shapes to create visual appeal. A modern geometric area rug may have symmetry, but it's also common to see asymmetrical or a few larger shapes in its design.
Interested in modern geometric rugs? You'll love:
For more modern ideas, explore our Blocks and Things collection.
2. Traditional Geometric
Slightly more subdued than modern geometric patterns, traditional geometric motifs use smaller, simple shapes on a more minimal scale. Traditional geometric patterns may also use lower contrast in colors and patterns with some floral motifs, lattice, or heavily repeating motifs with historical or cultural significance. 
If traditional rugs are more your style, you'll like:
3. Tribal Geometric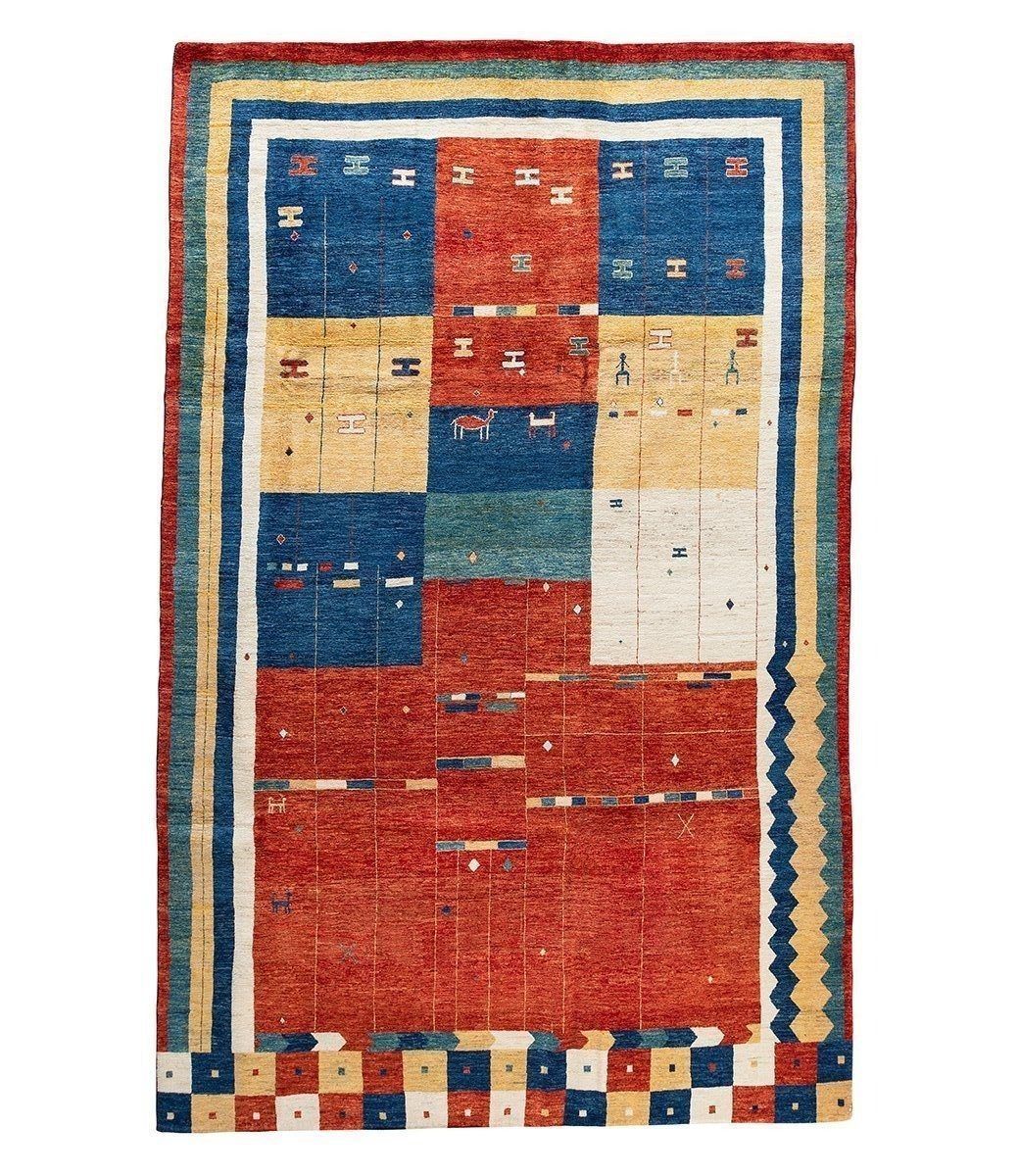 Many of the trendiest geometric rugs feature tribal patterns from cultures in Europe, Asia, and North and South America. Motifs on tribal rugs feature symbols of culture, history, religion, and virtue. Passed down through each region's nomadic or semi-nomadic tribes, the patterns tell the history of the culture and people who wove them. 
If you're looking for bold, tribal geometric rugs, view our:
How to Style Around a Geometric Rug
Geometric rugs can blend perfectly into any room's decor or stand out as a show-stopper. These two approaches to design require some mindful styling. 
As you shop for geometric rugs, keep a few design tips in mind:
1. Consider the Room's Existing Decor
Because geometric rugs are versatile, they can easily match a range of decor styles, including minimalist and contemporary. But you'll still want to ensure the rug's shapes don't clash with any existing patterns in the room. For example, a rug with sharp-angled shapes may clash with artwork featuring a lot of circles or waves. 
2. Determine the Rug's Aesthetic Purpose
A geometric area rug can blend in or make a statement. Decide whether the rug will be a focal point or a design complement.
You'll also want to consider rug placement. Is this rug going in the kitchen? Will it be in a bedroom? The fabrics and quality level you choose may depend on where it will live in your home. 
3. Analyze Your Color Scheme
Look for a rug with colors you'd like to incorporate into other elements and fixtures of the room. 
You have two choices when choosing your rug color palette. 
You can either:
Aim to blend and balance by matching your room's color scheme
Strive to headline with a statement rug that serves as the room's focal point
To create balance:
If you plan on using your rug to reinforce a room's pre-established style, look for a geometric rug within the room's dominant color scheme. A rug with muted colors, lighter tones, or simple patterns makes it easier for it to blend into the space. 
To make a statement:
Geometric rugs are often bold, which makes them perfect for creating a decor focal point. If you want your rug to be the first thing people notice when you walk into the room, go for bright patterns and larger, more prominent shapes. Anything with eye-catching contrast will draw your eye to the rug. 
Even with a bold focal point, it's essential to create a decorative balance in the rest of the room. Accomplish this with similar tones and texture, but keep the accessories somewhat minimal so the rug stands out.
How to Judge the Quality of a Geometric Rug
Well-made rugs require outstanding craftsmanship. From the method to the materials, here's how you can tell if a rug was made with quality and care in mind.
Materials: Look for rugs made from responsibly sourced wool, silk, bamboo, etc. 
Weaving technique: Handwoven rugs have a character you won't find in machine-made versions.
Colorfastness: Check for dye migration by inspecting the rug closely or wiping it with a clean, damp, white cloth.
Quality: The rug should feel pliable and sturdy, indicating a dedication to craftsmanship. 
Browse Our Collection of One-of-a-Kind Geometric Rugs
Ready to incorporate a geometric area rug into your home? Tufenkian can help. Our collection of geometric rugs features hundreds of different styles, colors, and sizes to infuse your home with more of what makes your interior design style unique. 
Test drive a geometric rug or visit a showroom to learn more.